Wes and I met in September 1947 in Nottingham's famous pub 'The Trip to Jerusalem' or rather outside, since inside he stood at the other end of the bar and it wasn't until I left that we met. He was waiting outside for me and asked if he could walk me home.
That was the first of many walks for him to Hyson Green and back to Bridgford.
On that occasion, he later told me, he arrived home to find a note instructing him to have a bath. He daren't disobey.
Wes was brought up in West Bridgford and he told me his mother used to send him on his bike to shop in the Meadows. He recalled the embarrassment of being sent to return any items which weren't to his mother's satisfaction.
Wes had three sisters. One older and two younger than himself. The youngest died age three, the eldest died a little while ago which is very traumatic for his surviving sister.
 As a boy, he had one close friend and the two lads cycled together and played board games in each others kitchen.
 Wes hated school and couldn't understand how anyone could enjoy it. He had a great admiration for his father even though he dreaded his father's attempts to teach him maths.
After he left The Mundella Grammar school his mother sent him to a business college.
From there he went to work at the County Court. I'm not sure what the job entailed but he told me of an horrific experience when he was out collecting rents. The tenant called 'Come in duck. It's on the sideboard.' The money was there and in the middle of the room was an open coffin.
Later he began work at the Westminster Bank. He found the work tedious and when he was called at eighteen to serve in the army he promised himself he would never go back.
Wes never spoke much about his army days although he told me his demob saved him from a court marshal. Apparently he lost a lorry. He had left it to nip into a shop and when he came out it had gone! He didn't keep in touch with any of his comrades in arms but a few years ago one of them tracked him down. It transpired that he was known as Bob during his service in Germany.
From his a friend I gather there were several occasions when they were under fire but Wes didn't dwell on them.
Wes liked driving and he had every intention of giving up the bank and turning to lorry driving for a living. However when he told his chief clerk he was advised 'Never give up dirty water until you've got clean.'
We married in June 1949 and the open road lost its attraction.
We lived in rooms at the back of shop premises. Our first child was born in May 1950 and Wes was a wonderful father. It was he who paced the floor all night with the crying baby in his arms.
An incident that my father found very funny was the morning after the baby was born, Wesley's war medals arrived. Dad said it was the first time he had heard of a man being awarded medals for that. Wes didn't see the funny side.
Two more children were born in Hyson Green and at the weekends if the weather was fine Wes would take them to the arboretum and I would pack a picnic and join them. During the summer months we would all go to one of the lidos. Nottingham had several lidos at that time. Later we went blackberrying.
Once a week we went to the 'pictures' while Mam and Dad baby sat. In return we minded the shop while Mam & Dad went out.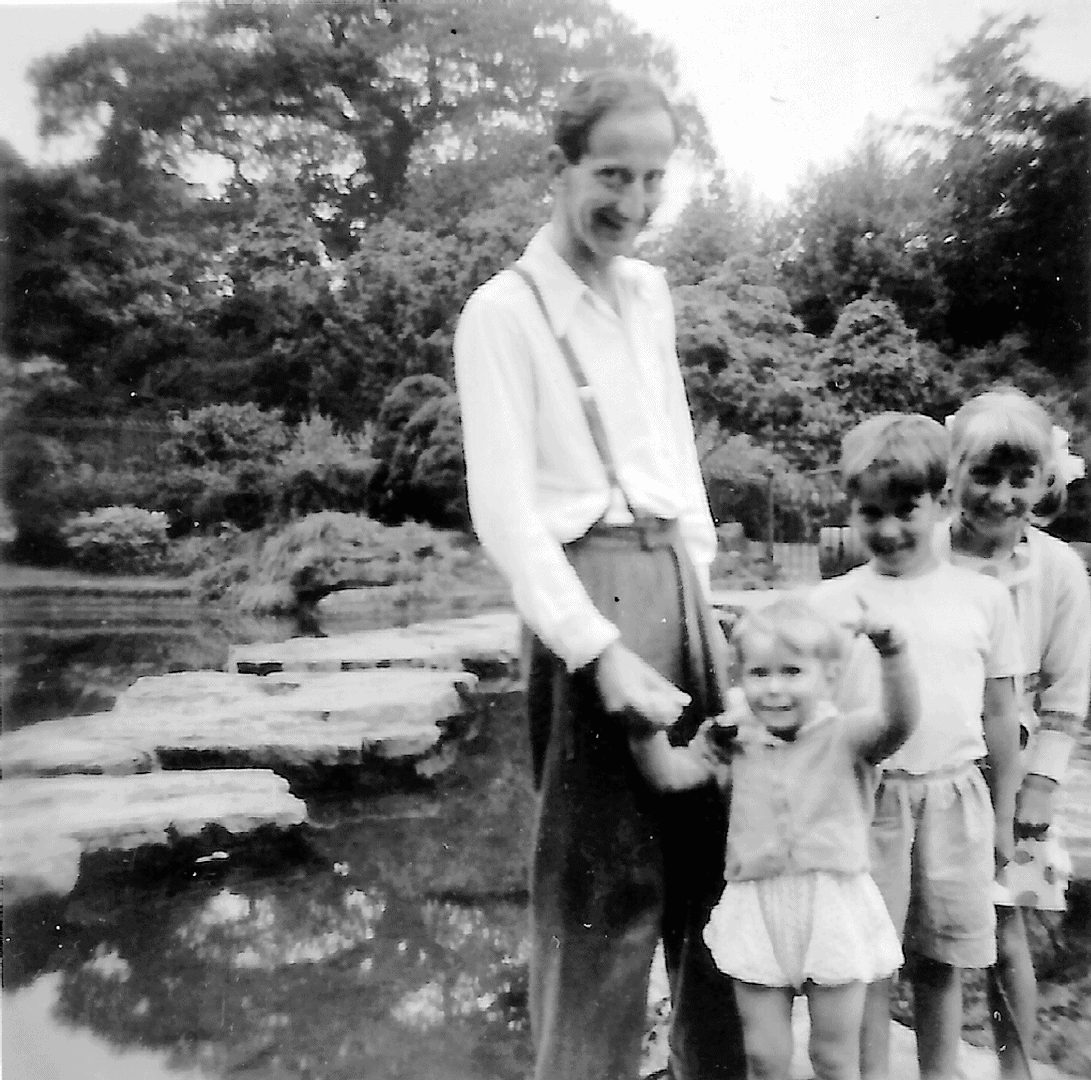 After much searching we bought a house, curtsey of a bank loan, at Wilford Hill. I was much taken by the Church I could see on the horizon from the back window. It was not until seeing a puff of smoke, Wes remarked 'There's another one gone.' that I discovered the Church was this crematorium.
His last dog, a standard poodle accompanied him everywhere and he was well known in the district where we lived.
Having battled or years with the heavy clay of Wilford Hill he found the garden of our last home in Lady Bay a delight and he worked very hard to make it a pleasure for both of us. He also took on an allotment and we enjoyed vegetables straight from the garden until that became too much for him.
Wes enjoyed his grandchildren and we have been fortunate in being allowed to be a part of their lives.
Everyone liked Wes - he liked people and took an interest in them.
We had 57 years together and although he didn't dance when we first met, after we retired we discovered sequence dancing which we both enjoyed and through dancing we made many new friends.
Wes was a wonderful man, a good father and husband. He will be greatly missed.